Filter by Category
Family Activities
SACOPEE FAMILY READING CLUB
with Renee Payeur

Apr 6, 2023 at 5:30 pm

, runs for 7 weeks
Join us for dinner, stories, and fun family activities! In addition, each child will be able to take home a book each week! This free Parent and Child Together (PACT) activity meets at the Riverside United Methodist Church on Thursday evenings as designated. If you have questions regarding this FREE program or want to register, please call Renee at 625-3092 or email rpayeur@sad55.org. Bring the family and join us! Pre-registration is required due to space issues and to keep everyone up to date on any changes.
No Class April 20
FAMILY FUN NIGHT: PLANT A PINWHEEL GARDEN
with Shannon Briggs

Apr 13, 2023 at 5:30 pm

, runs for 1 week
Join us in April for a night of family fun! Parents and children come together for dinner, story time, and a fun spring activity! We will create outdoor Pinwheel Gardens in observance of Child Abuse Prevention Month in April. Bring the ENTIRE family! Pre-registration is required in order to keep everyone up to date on any changes.
KIDS FREE TO GROW offers parenting programs in a group setting to promote healthy, nurturing, and non-violent ways of parenting. All meetings are free and led by Kids Free to Grow Staff.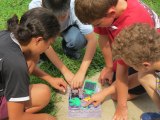 FOSTER CARE/ADOPTION Q&A - LIVE ONLINE
with Kasey McDonough
Join the A Family for ME program for a live, virtual conversation about becoming a foster/adoptive parent in Maine. Recruitment Specialists will answer your questions about the different ways to provide care for infants, teens and siblings. If you've ever considered foster care or adoption, this is an excellent opportunity to learn more and get your questions answered! Learn about the licensing process, and explore the various ways to support youth and provide care, including respite care. Discover ways to support foster families. Register directly: https://www.tickettailor.com/events/afamilyforme/783429VIRTUAL
     Second Monday of the Month
     12- 1 p.m. or 6-7 p.m.